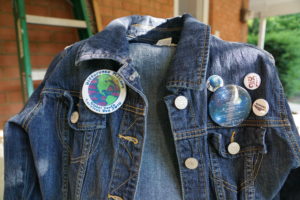 Small Things Matter sells pin-backed buttons to help others spread awareness about the causes they are passionate about.
Buttons Made with Care
We offer buttons in 3 sizes: 1″, 1.5″, and 2.5″.  Single buttons such as a photo birthday button are $5 (custom artwork included).  Buttons purchased in bulk of 100 or more are $1 each for businesses and $0.50 each for nonprofits. Our turnaround time is 1-2 weeks.
Small Things Matter has made and designed buttons for nonprofits, Science Night events, craft vendors, local rock bands, and more.  Please see our gallery to view more of our buttons.
Custom Design Work
We are also available to come out and host a "Color Your Own Button" table at your event where your guests pay $1 to make their own 2.5″ custom colored button on site. We can provide your guests with themed buttons to color such as Halloween, Pokemon, and more.
Have an idea, but you don't have the tools to design your own button? Let us design one for you. Our costs range from $5-20 depending on the complexity of the design.
100% of the funds raised are used to support our projects.
Save
Save
Save
Save
Save