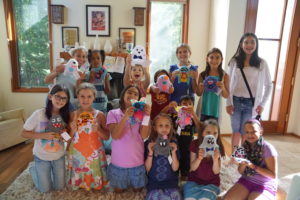 Want to craft some items for charity with your friends?  If so, please consider hosting a birthday party or get together party for Small Things Matter.  It's simple, fun, and an easy way to spread the word about the importance of helping others.
Simply get your group together to craft items for one of our charities and send them to either Small Things Matter or donate them directly to the organization of your choice.  (Please note that some organizations have a minimum amount of items they will accept for their program.)
If you need some ideas of what to craft see our Projects page.  There you will find instructions and patterns as well as Small Things Matter tags that you should print, sign and send to us with your items.
Whatever you choose to do please send us a few words about why you chose the project/charity and a hi-res photo so that we can feature your work on our website.